Newsletter 81 del 18 august 2020
Many are mourning the loss, at 71, of Giovanni Assante, a magnificent producer of pasta in Gragnano, owner of pastificio Gerardo di Nola.
Giovanni had an extraordinary generosity, he was always ready to toss the pasta in the pan, to cook and spend time with others, wherever, whenever. But this can be said of many people. What made him special was the fact he was motivated by his desire to be surrounded by smiling people without aiming for a personal profit.
He had a natural generosity, never fake or connected to earning something. It goes without saying that some didn't like him, or followed their own personal advantage, like nourishing their ego. But this is nothing new. Giovanni Assante was special and will be missed.
Paolo Marchi
News by Gabriele Zanatta
Giovanni Assante, a life for pasta
«We're sad. He was a good and generous colleague». This is what Riccardo Felicetti says of Giovanni Assante, from pastificio Gerardo Di Nola in Gragnano (Naples). He joins the many who remembered some anecdote and the personality of this ex missionary originally from Ciociaria (as Eleopnora Cozzella recalls on Repubblica), born in 1949, a graduate in Literature and Philosophy, who passed away on the night between Thursday the 6th and Friday the 7th of August.

«We grew up together», cook Pasquale Torrente from Cetara recalls, «he was a very generous person, and well read. He was also the most formidable with cannaruti, as we say in Campania, that is to say someone who really enjoyed food, he always gave that last bite, the latest last week, on Wednesday, when he came at Al Convento, with a 2.5 km tub gurnard. We've all seen him prepare, at least once, some pasta with peas, or pasta with potatoes inside gigantic pots. When he sold you his paccheri or maccheroni he always left you some extra 4 or 5 packs. He made pasta cut with bronze known, while many used Teflon instead. He made a huge contribution to the industry, like Pasquale Buonocore of pastificio Afeltra, who also recently passed away. I'm losing a friend, a brother. The best of all».
«When I first arrived in Campania», Christoph Bob of Refettorio di Santa Rosa in the Amalfi Coast recalls, «Giovanni found me a place to stay at the Salesians in Vico Equense. He wasn't my supplier, but every time I paid a visit, he gave me a pack of pasta: 'this is not for you but for your children'. He was always available, he did good unconditionally, without paying attention to his own interest, which is something very rare in our world. With his passing away, and that of Alfonso Pepe, we lose a lot in Campania».

«I last visited him on Friday», Neapolitan cook Andrea Aprea from Vun at Park Hyatt in Milan says: «We had a great, long relationship. He had a big heart, he always had something good to say about everyone. Every time we had to part, he would say: che a maronn t'accompagni. I lost a point of reference».

On Facebook Ciccio Sultano of Duomo in Ragusa recalls him too: «Giovanni Assante has died. A pastaio, a friend, a great person. Even those who didn't know him, or hadn't tasted his pasta yet, can imagine him as a positive person. The kind of person who always has space for themselves and for others in their heart and minds».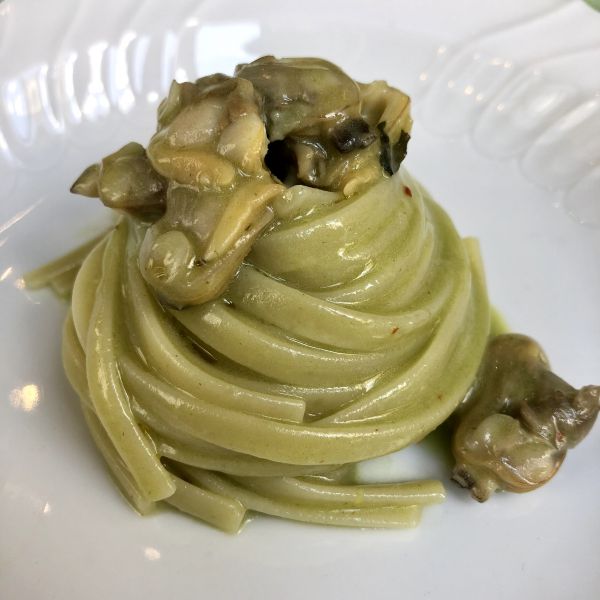 Clams 1: Gaia Giordano's linguine, Spazio
Linguine, clams and parsley. It's the usual low profile dish from the menu of Niko Romito's restaurants, in this case Spazio Milano. But the tasting leaves you speechless, and the enjoyment goes beyond that of the famous first course, which we mistakenly believe impossible to improve.

«This pasta» Gaia Giordano, much more than the executive chef of all the Spazio restaurants, says, «is inspired by linguine garlic, oil and chilli pepper which we had been presenting as a special off menu in Milan. In that case we had made a cream of garlic – blanching it multiple times, to make it digestible – with anchovies, extra virgin olive oil and white wine. We wanted to make some pasta with clams for some time, so we decided to use that base, to which we added the water resulting from opening the clams».

«We cook the linguine for a few minutes in the pasta boiler, then finish the cooking in the pan with the water from the clams and the cream of garlic, then away from the heat we add the clams from Sardinia and the parsley blended with ice». The flavour of the sea + oily character + meaty character = happiness.
Wait a little longer to taste this at the end of the summer: Spazio Milano will reopen on the first of September.
Clams 2: Eugenio Boer's tagliolini, Bu:r
Before August we tasted (devoured) another great version of pasta with these bivalve molluscs. Eugenio Boer of restaurant Bu:r, in Milan cooked them – the restaurant having seated plenty of people in July, after the emergency.

The goodness of this tasting was based on three elements. 1. An above-average dose of butter («It's not from Normandy, but from Cascina Carena, a dairy farm in Lodi», Boerexplained, «because it's time to support big and large producers in Italy»), lightly whisked with garlic processed in the Microplane and some chilli pepper. 2. A fresh pasta with flour, eggs and most of all an extract of parsley with Greenstar in the dough. A risky idea: «If you don't eat it right away, the pasta risks changing structure and becomes gelatinous». In our case it was meaty without becoming gummy, almost like al dente dry pasta.

3. A cream of clams from La Spezia lightly cooked and then blended in the Thermomix with their cooking water, and oil, parsley and chilli pepper. The flavour added a fat component to the meatiness and the texture. Satisfaction, satisfaction, satisfaction. To taste them, wait a little: Bu:r reopens on the 26th August.
Bottura's dumplings, 3 continents in one
This is the photo of what we believe is the most delicious and emblematic dish in the entire menu at Osteria Francescana in Modena. It's called We are all connected under one roof, an impulse to interracial brotherhood.

These dumplings are filled with pork belly smoked in a wood oven and glazed with maple syrup from Jessica Rosval, the Canadian chef from Casa Maria Luigia. To the filling of each one of the 3 rich raviolis (28 grams each), the two cooks of Via Stella Davide Di Fabio and Taka Kondo add a part of fresh meat with a touch of cotechino gelatine which then melts with the heat. Before closing it, they place under the belly a small clam from Goro (Ferrara) which will add sapidity and an even stronger biteable texture.
Wrapped around all this, is a very thin, elastic, gummy dough, an alchemy traced by Choi Jongho, a Taiwanese magician in the brigade of Massimo Bottura,who didn't turn down corrupting the dough with a pinch of egg yolk. At the client's table, over the perimeter of the dumplings they pour a reduced version of clam chowder, a popular soup from New England in the East Coast of the US. With an elegant element: on top of the jug of sauce they add some herb oil. Please note this is added on the surface, not emulsified, so that it won't mix with the latter and you will notice it first, with its delicate note of tarragon and chives. These are details that make the difference.
It's all finished with some grated lime, without getting to the albedo, which is too bitter. The result: North America, Asia and Italy in the same bowl.
Bigoli with lobster, from Osteria Salvagente in Trieste
We know very well where Harry's Piccolo, the commendable fine dining establishment of Matteo Metullio and Davide De Prà is in Trieste. But the Mitte European city is more and more the destination of simple places, where they prepare sincere, and more straightforward flavours, that don't follow tourism logic.

There's been lots of talking lately about Osteria Salvagente, a seafood restaurant on the promenade, a few hundred metres' from Piazza Unita d'Italia. We went there early in August. The first courses on the blackboard were already promising: Pappardelle alla busara, Spaghetti with clams, and squid ink, Gnocchi with ragù of mussels, Caserecci with sea bass, courgettes and pesto…

That day, Marco Munari was happy to announce that his trusted fishermen had returned with a huge lobster, caught with their nets in tanks 130-140 metres deep, just outside the city, something unique in the Mediterranean sea. His origins from Vicenza imposed that he paired this with some fresh pressed bigoli, delicately placed on the lobster and its huge claws. Holding a nutcracker, we got dirty to our feet.
Carbonara Roscioli, a million of these dishes
We had ended the month of June at Identità Golose Milano with a special event: the Roscioli brothers had arrived from Rome to Milan, for 3 events. Needless to say, the queen of the four-course meal was Carbonara. In 16 years, Alessandro, Pierluigi Roscioli and Nabil Hadj Hassen have made at least a million. The popularity rocketed when the New York Times praised the guanciale fried by a Muslim, as we explained in a semi-serious analysis of this legendary dish.
The goodness of Pipero's Coppa-pasta
The month of June at Identità Golose Milano included another pasta made in Rome.It was a substantial, playful and creative first course from restaurant Pipero, cooked by Neapolitan Ciro Scamardella. It's called Coppa-pasta [literally, pastry-cutter] because it's a ring that puts order to the anarchy of pasta on the plate. An arched fettuccella, slightly bended to hold the sauce, mixed with a pork jus, smoked salted butter, and some chopped wild fennel. The pasta nest is dished out at the table by the waiter with a pastry-cupper on a circle of pork coppa- head, ears, tongue and feet–, closed by an identic veil on top». A double coppa of goodness.
RECIPE: Spaghetti with oil from Michele Biagiola
«The idea for this dish», explains Michele Biagiola, patron chef at Signore te ne ringrazi in Montecosaro (Macerata), «is that of retracing the aromas of the single cultivar oil through vegetables, creating a blend of sensations that hint at the nuances of our oils. Pimpinella reminds of nuts, and almonds are present in many of our oils. Jerusalem artichoke hints at artichokes, which you can notice in many oils from the Marche. Rocket, with its vegetal bitterness, reminds you of freshly milled oil. Caccialepri hints at freshly cut gruss, like orbetana. Wild strawberries, hint at our mignola, which has scents of fruits of the forest. The tomato compote has the strong tomato aroma of the Ascolana Tenera.

Spaghetti with oil, a tribute to the oil of the Marche and the surroundings
Recipe for 1 person
INGREDIENTS
70 g spaghetti
Extra virgin olive oil (local blend)
Salt
1 tablespoon of fresh ricotta
8/10 the tender ends of pimpinella
40 g Jerusalem artichoke (cleaned and cut in julienne)
4 rocket leaves
4 leaves of caccialepri
1 wild strawberry
the tip of a teaspoon of tomato compote

METHOD
Cook the spaghetti in lots of salted water. Meanwhile, season the Jerusalem artichoke in a salad bowl with salt and lots of oil. Pour the drained pasta into the salad bowl, turn energetically pouring a little cooking water from time to time, until it's nicely mantecata. Serve on a plate adding all the remaining ingredients.
RECIPE: seaweed Nastrine from Tramontano
«This is my most emblematic dish», its author, Luigi Tramontano of Hotel Le Agavi in Positano explains «served on the terrace of restaurant La Serra, which looms over Positano while the view ranges from the coast of Cilento to the islets of the Galli. Seaweed Nastrine are a historic dish of mine, always in my menu».
Seaweed Nastrine with sea urchins, truffles, tomatoes confit and chives
Recipe for 4 people

INGREDIENTS

For the fresh pasta
200 g re-milled semolina
50 g 00 flour
35-40 g egg yolks
10 g extra virgin olive oil (optional)
One pinch of salt
60 g seaweeds
For the sea urchin sauce
6 sea urchins
20 g extra virgin olive oil
10 g lemon juice
400 g truffles
100 g tomatoes confit
Fish stock
Truffle water
Chives, chopped finely
Chives, for the decoration
METHOD
Pour the semolina and the flour in the kneading machine, add salt and start kneading. Gradually add the egg yolk, then roll it through the pasta machine so it becomes smooth. In this case it must be rather dry, because we will add the desalted, drained and chopped seaweeds. Then roll the pasta through the pasta machine once more, so the seaweeds and the pasta are perfectly mixed. After setting the pasta aside, roll it out with the pasta machine so it's 0.5 cm thick. Place the pasta on a guitar so as to cut it in the shape of nastrine and create some nests with it.
For the sauce
Take the sea urchins and open them with the sea urchin opener. Cut the top part which you can tell by the mouth. Now remove the water and the seaweeds inside and rinse it under running water. Then scoop out the roe with a teaspoon, taking only the orange part. When serving, brown some garlic, add the water from the truffles, remove from the stove and add the sea urchins, the tomatoes confit and the chopped chives and the truffles (previously opened in a pan with garlic and oil), and at the very last moment mix with the nastrine pasta, dish out adding some tops of chives.