06-04-2013
Food, insanity, brilliance and love
How Fool Magazine from Sweden managed to become the best food magazine in the world
A picture taken from Fool Magazine, based in Malmo and run by editor and art director Lotta Jörgensen and her husband Per-Anders, editor and photographer. It has been voted as the world's best food magazine by a jury from the Gourmand Awards for 2013. The first two issues are sold-out but Issue #3, out next June, can be pre-ordered via this website
Fool Magazine is a project born out of passion and an almost foolish interest in gastronomy and beyond. Having a long history of working with food, chefs and gastronomy we lacked a magazine that allowed us fulfilling our vision what a contemporary gastronomic magazine could be.
Gastronomy has never been more exciting and diverse, yet food journalism seems to be rather conformist, following the same formula with recipes, images of chocolate cakes, lacking stories about the depth of gastronomy, environment and the people behind it all. Like the most truly great restaurants we wanted to rebel and create another voice and a different, honest language. "Food, insanity, brilliance and love" became our motto.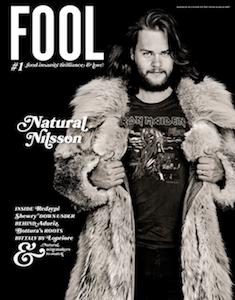 Fool Magazine Issue #1: Magnus Nilsson, chef of Fäviken
We are based in Malmo, Sweden, only 40 minutes from Copenhagen and
René Redzepi
´s restaurant
Noma
. But where
Noma
is "Nordic" in terms of produce, we are not.
Fool
is open to every influence from around the globe. We try to look into the future and produce truly unique stories beyond the obvious. We want to open our readers' eyes to new gastronomic universes and a few that we feel should be revisited and re-told. We believe in our judgment and ourselves. We are egoistic in our belief that around every corner is a new discovery.
Fool
is an almost contradictory food magazine; no recipes, long texts and images out of the ordinary. We take inspiration from fashion, design and contemporary culture. Spending time with our subjects, the equivalent of slow food journalism (!) enables us to go closer, rather than rushing in and out with preconceptions. This way of working is unfortunately time consuming and almost a luxury in today's fast paced and fragmented media climate. We enjoy modern media but more importantly we truly love the smell of a newly printed magazine, the sensation of two different paper stocks, a contemporary, readable design and photographs perfectly reproduced (some of our readers have cut out and framed images from the magazine, a great compliment!).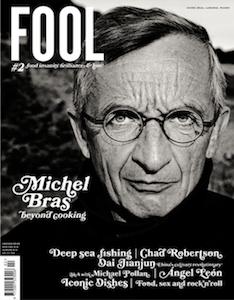 Fool magazine Issue #2: Michel Bras
We also give our writers the unique freedom to write long texts and we work hard as editors to get the best out of our contributors whose texts are translated into English if not they are native English speakers. To us it is vital working with our extensive network of great journalists around the world; some of them often do not reach further than the borders of their respective country. Fool is a small operation, lots of work, total control, great responsibility and insanely fun.
Per-Anders J÷rgensen
Editor and photographer born in Sweden, F.C. Inter fan, he runs Fool Magazine together with his wife Lotta

| published on 06-04-2013 in IN LIBRERIA