22-03-2013
Nazionale pride
The historic restaurant in Vernante gives an effective example of adaptation to contemporaneity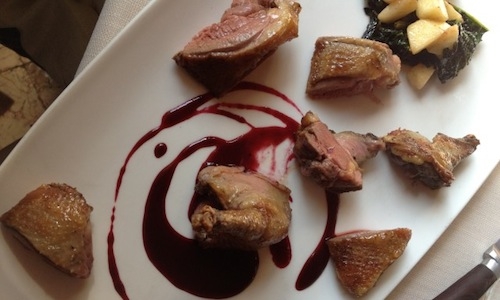 Pigeon, mountain hay, blueberry sauce and black cabbage, a great dish at the Nazionale in Vernante (Cuneo), tel.+39.0171.920181, run by the sixth generation in the Macario family: formed by chef Maurizio, Christian in the cellar and Andrea in charge of the hotel and relais
Last year Martino was born. He's the seventh generation in the Macario family – inn keepers in Vernante (Cuneo). He's the son of Christian, who, at the Nazionale, is in charge of the wines. The child bears the name of the ancestor who in 1817 arrived here from Boves: his sister used to run a trattoria over there, so when he arrived in this village, he immediately opened one of his own, right in the village centre. The first official document, their licence, dates back to 1850, but a little while earlier the town-hall had burnt down and in fact the Macario family had already been serving abundant dishes for a few decades. In 1896 they moved to the current location, right on the road that from Cuneo leads to Limone Piemonte, where until the end of March people have fun on skis or snow rackets.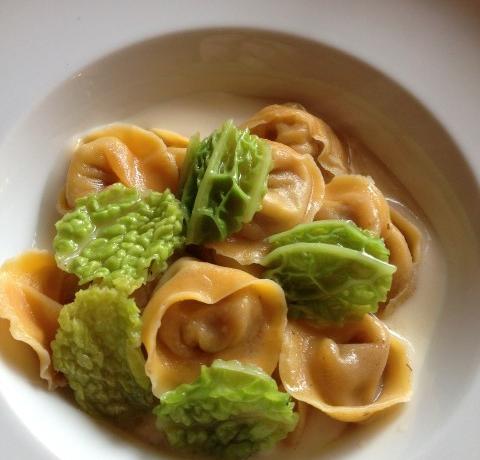 Ravioli with cotechino and cabbage
We're in the most Southern part of the so called Provincia Granda, a secluded, peripheral place, easier to reach from Liguria than from the Pianura Padana… At almost 880 metres above sea level, part of the territory being inside the Parco delle Alpi Marittime, Vernante has 1.200 inhabitants, or little over that, and when you enter the
Nazionale
you'd think you had crossed the entrance to the classic village retro-style restaurant, a temple dedicated to local tradition, with rich, and perhaps a little heavy dishes, with gigantic portions and an Alka Seltzer finish. Well, this is not the case.
There's been, in fact, a sort of short circuit between generations, when the lead of the kitchen was halfway between dad
Loris
and the current chef
Maurizio,
38 years old, who is
Christian
's cousin (while
Andrea
, 35 years old, takes care of the hotel, upstairs, and the relais on the other side of the road). They explain: «We wanted to prepare some local dish, but we noticed two things». First, that in order to cook something traditional, local products were not enough and out of season they had to buy them elsewhere. Something which annoyed them. Second, that the territory was in fact changing quickly, «twenty years ago there were no kiwis in our area, now the province of Cuneo produces them in massive quantities. And the Hokkaido pumpkin, well, it's pointless to say it comes from the East: it now takes root everywhere».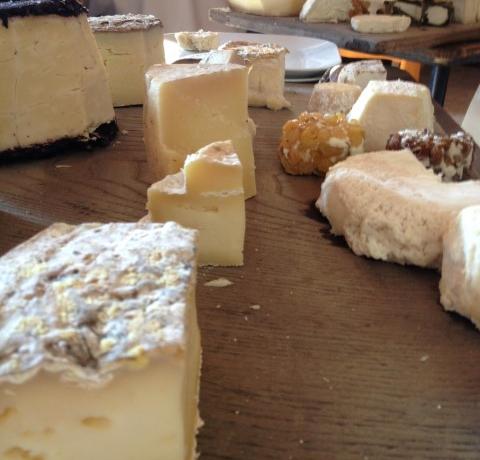 The double trolley of cheeses, magnificent
So here came the idea: to dish out the territory, but the new one, designed by the second millennium. Putting grannie's recipes side by side with new dishes that reinterpret them according to the current fresh air (in
Pulenta e merluss
, for instance, the salted codfish becomes a brandade – that is to say a cream made with oil and milk – covered with a very light and tasty corn mousse: a way to make a very strong preparation suave). Then it's time to venture across the unusual inspiration offered by small, highly selected, local producers: milk, butter, cheese from the
Isola di Palanfré
(by the way, the double cheese cart is exceptional, worth the visit according to us, and a reason to be proud according to them), organic vegetables produced by
Agrisviluppo
in Cuneo, flour from
Mulino Marino
in Cossano Belbo, meat from
Marco Martini
in Boves (in turn, third generation of great butchers), while for a super dish like
Pigeon, mountain hay, blueberry sauce and black cabbage
– which is assembled in front of your eyes, a spectacular rite – one moves further to the North, around Vercelli, trusting the guarantee offered by
Greppi di Moncucco
.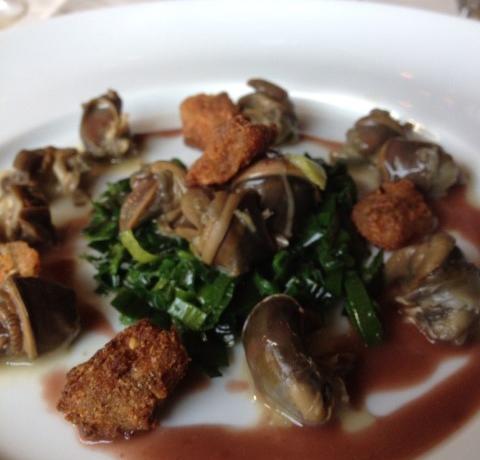 Valley snails with leeks
In other words, when you cross the entrance of the
Nazionale
you feel you have entered a small world of fine food, one the passion of a whole family makes work perfectly. There's a beautiful cellar, with some selected specialties and super mark-ups (in the sense that it's hard to find more honest places); the service in the dining room is smooth, without any flaws; in the kitchen,
Maurizio Macario
has the solid hand of someone who has mastered the necessary techniques to work with raw materials of the highest quality. The
Valley snails
(Helix Pomatia Alpina)
with leeks
, meaty and delicious, are memorable; the
Fettuccelle with antique flour, with hare and dried figs
are delicious; and apart from the pigeon, you also shouldn't miss the
Bisalta lamb art-tirat
, a traditional seared spare rib. The quality-price ratio has no comparison: the road to get there may be a little long, but you'll be back.
Il Nazionale
via Cavour, 60
Vernante (Cuneo)
+39.0171.920181
Average prices: starters 12, first courses 12, main courses 16, desserts 9 euro
Tasting menu: 33 and 38 euro
Carlo Passera
A dieci anni ha scoperto di amare la politica e ha iniziato a studiarla; a venti ha pensato di essere fatto per il giornalismo e ha intrapreso una carriera da scribacchino delle cose del potere che, divenuto caporedattore a trent'anni, lo ha indotto a considerare il magna magna di Palazzo interessante da descrivere, ma non più di quello a tavola. Oggi, a 35 anni, affianca l'uno e l'altro, ostentando più distacco rispetto al primo e facendo attenzione a non acquistare troppi chili per quanto riguarda il secondo. Con risultati discutibili in entrambi i casi, ma è contento così. Attende i quarant'anni con ironica curiosità.

| published on 22-03-2013 in CARLO MANGIO